L-W Locksmiths St Helens are a reliable, local Locksmith therefore we are in St Helens.  We are fully qualified Locksmiths with certainly a vast amount of experience. Likewise our quality of work is impeccable and you will be thoroughly satisfied.
Please note that we offer a price guarantee above all we believe we provide an outstanding service for a fraction of the cost. Why go elsewhere when L-W Locksmiths can consequently provide the service you are seeking?
Being local to St Helens means that we have a fast response time in an emergency Locksmith situation. Don't make the mistake by contacting a National Company above all you most probably will be left with a hefty bill.
Furthermore we provide a full warranty for all work that we carry out in St Helens for your piece of mind. You wouldn't by a product in a retail shop without a warranty therefore make sure your security is guaranteed.
Local Locksmith
Quick response and service to your local area because we know this is important to you.  
Auto Locksmiths
Need our urgent assistance to get you back on the road. Click to find out the services that we provide. 
5 Star Reviews
See our incredible customer reviews. Please leave a review today to tell us how we are doing. 
First of all these are the most common lock outs that we receive every day in St Helens. Most importantly it is essential to get a trust worthy company to deal with your security of your home.
We are highly experienced Locksmiths in St Helens consequently we focus on non-destructive entry. This means that we very rarely drill a lock like almost all the other Locksmiths in St Helens. As a result of this we have a high rate of returning customers who recommend us to their friends and family.
The methods we use to gain access are mostly picking the lock and using bypass techniques. We use these techniques to keep the cost down for our customers and as a result you will not need to buy a new lock on top. Therefore you the customer are happy with a lower cost. Would you like to pay more for a locksmith's service due to the incompetence and lack of knowledge? Well don't call L-W Locksmiths St Helens, who will certainly complete all of the job to the highest standard with minimal costs.
On the very odd occasion we may need to use destructive techniques like drilling but this is extremely rare. Our Locksmiths in St Helens are highly experienced and very skilled hence the returning happy customers.
If you need a locksmith in St Helens as you are locked out of your home please give us a call. We will not disappoint.
Locked Out
Key Snapped in Lock
Faulty Locks
Emergency Lock Replacement
L-W Locksmiths St Helens are available 24 hours a day, 7 days a week.
We know that you can loose your keys or have lock problems at anytime of day or night, this is why it is important for your local Locksmiths in St Helens to be available 24 hours a day.
If you need a 24 hour Locksmith in St Helens then give us a call for your free quote.
L-W Locksmiths St Helens have a massive background in UPVC doors and windows because these are now popular.
From:
Gaining access if the door is jammed shut.

Realigning UPVC door so that it fits correctly in the frame.

Repairing a faulty mechanism.

Replacing faulty handles.

Changing locks on the UPVC doors.
L-W Locksmiths St Helens carry 90% of all UPVC door parts so we can complete all work on the first visit. We know it is important to you the customer to have your home secure immediately.
Any problems with your UPVC door in St Helens please give us a call for you free quote.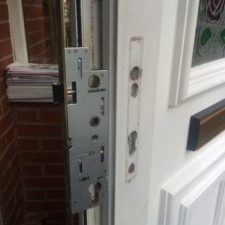 Wooden Door Security St Helens
Night Latches (Yale Locks)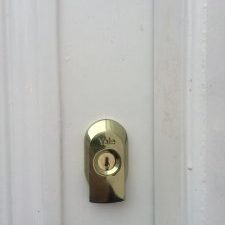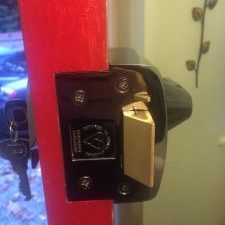 Night Latches or Yale locks (as they are commonly known) are very popular locks on wooden doors.
Yale locks are normally found at shoulder height and almost all have a secondary mortise lock below for extra security.
L-W Locksmiths St Helens pride ourselves on installing Yale locks to the highest standard because thrive on neat work.
If you want us to install a Yale lock from scratch, repair or replace a Yale lock. Then certainly give us a call we always make sure we do a great job.
If you manage to lock yourself out of your home on a Yale lock and as a result need a local Locksmith in St Helens. We can open the door for you with no damage at all and no hassle.
First of all Mortise locks are great for security for wooden doors. If you have a wooden door in St Helens make sure that you are fully secure with a Mortise Lock.
Wooden doors mainly have a Night latch on the top also known as a Yale Lock and a Mortise Lock on the bottom sometimes referred to as a Chubb Lock.
It is always important that you lock all of the locks on your door in St Helens as leaving it just locked on the Yale Lock is not sufficient.
A British Standard 5 Lever Mortise lock is one of the most secure locks you can have on your door in St Helens.
At L-W Locksmiths St Helens we can install these locks on all wooden doors. We thrive on a quality installation and as a result of this you will be satisfied with our workmanship.
As your local Locksmith in St Helens we only provide the most secure locks on the market that are insurance approved. Finally make sure that your locks are insurance approved as should the worst happen you do not want to invalidate your insurance.
Areas that we cover in St Helens
Bold
Earlestown
Eccleston
Haydock
Moss Bank
Newton-le-Willows
Parr
Rainford
Rainhill
Sutton
Sutton Manor
Thatto Heath
West Park
Windle